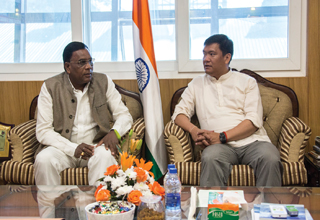 ITANAGAR, Dec 4: A four-member delegation of the Committee on Subordinate Legislation of Jharkhand Legislative Assembly (CSLJLA) headed by its Chairman Rajkishore Mahto called on Chief Minister Pema Khandu at his office here on Monday.
The Committee is on a study tour of five states – West Bengal, Tripura, Assam, Meghalaya, and Arunachal Pradesh – since November 24. It arrived in Itanagar today in the last leg of the tour.
Responding to the queries posed by the visiting team, the Chief Minister informed that while the state is geographically the largest in the North East, its population, at around 14 lakhs, is one of the lowest.
During the discussion, the members took note of the number of Legislative Assembly and Lok Sabha constituencies, the number of electorates, the strength of the Opposition, the procedure of the Assembly sessions, and such.
While inviting the Chief Minister to visit Jharkhand, the members assured to return and travel around the state as visitors to enjoy its natural and cultural grandeur.