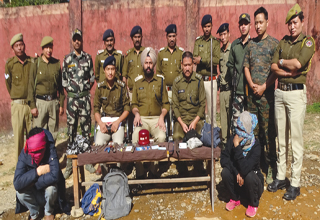 ITANAGAR, Dec 4: In a major breakthrough, the Capital unit police, led by Superintendent of Police, Sagar Singh Kalsi arrested two persons in connection with acts of ATM vandalism in the past few months.
The accused, Nima Wangchu (34) and Puja Kuma (22), were arrested on Monday and will be produced in court for remand and further investigation.
Several documents, identity cards, ATM cards and a sizeable amount of tools to break into the ATMs, besides three mobile phones and clothes, have been recovered from the duo's possession, the police informed.
The SP said that there have been several reports of vandalizing of ATMs of various banks in the entire Capital Complex for a few months.
Kalsi informed that they have received 43 reports of ATM vandalism cases from Itanagar, Naharlagun and Nirjuli areas. Itanagar Police Station registered 33 cases of ATM vandalism, while Naharlagun Police Station reported nine cases and Nirjuli Police Station reported one.
Following such recurrent break-ins, the Capital unit police had laid several traps for the last 15 to 20 days.
"We received human intelligence, and support from the banks and several other inputs, which led to the arrest of the duo," he said.
Kalsi also informed that the bank authorities and security agencies claimed to have incurred losses of over rupees one crore, and that there would be more expenses involved in repairing the machines.
"Consumers have been the worst sufferers and many of the ATMs are still under maintenance," he said.
Terming the duo 'Bunty and Babli' of the state, Kalsi assured that vigil would continue to avert such occurrences.
An exercise of security audit of banks and ATMs is underway to strengthen the security and remove any lacuna in these banking institutions, he said.
Naharlagun SDPO Make Bui, Itanagar SDPO Dekio Gumja, Itanagar OC Tabi Bage, Naharlagun OC N Riba, Nirjuli OC K Dev, SIs N Nishant and AK Singh, ASI AK Jha and other police personnel were actively involved in cracking the case.
Meanwhile, several NGOs and youths have expressed appreciation for the police for solving the much-talked-about case.