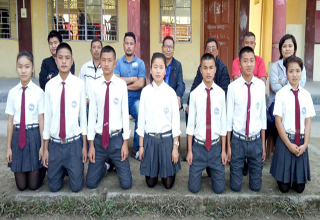 ITANAGAR, Dec 8: Table Tennis Arunachal (TTA) has selected eight players for the 79th Cadet, Sub-Junior National and Inter-State Table Tennis Championships-2017 to be held at SP Mukherjee Indoor Hall in Goa from 14 to 19 December.
The team includes four men and an equal number of women paddlers, who have been selected on the basis of their performance in the 2nd State Olympic Games-2017.
Sports Authority of Arunachal (SAA) Vice Chairman Gechi Doke on Friday flagged off the team in the presence of Sangay Lhaden Sports Academy (SLSA) Principal Tabia Chobin, and coaches and teaching staff of the SLSA.
The vice chairman and TTA secretary Passang Dingla wished them to have a safe journey. The team will be leaving here for Goa on December 9.
The Team: (Men) Nalo Komut, Tarak Maph, Bralo Misso, Getit Nopi,(Women) Neelam Dilli, Nali Meto, Eme Mili, Biri Yakap. Gouridas Oinam and Kimi Haider are the team manager and coach.