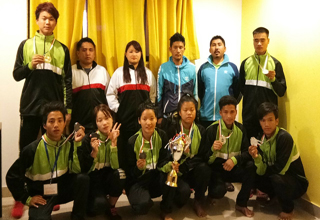 ITANAGAR, Dec 8: The karate players of Arunachal Pradesh displayed outstanding performance in the 63rd National School Games for Karate (U-17) and made the State proud by winning eight medals, including two gold.
Anand Cheri of Exalt Foundation School, Itanagar and Samen Romat of Sangay Lhaden Sports Academy, Chimpu performed brilliantly to bag a gold medal each in below 75 kg and below -66 kg category.
Doni Neri (-70 kg), GSS, G-Sector, Naharlagun, Kyabo Liyang (-50 kg), GHSS, Polo Colony, Naharlagun, and Paching Lily (-68 kg), GHSS, Naharlagun won a silver medal each.
The bronze medallists are Tadam Doyom (-54 kg), Government Upper Primary School, Lingram, Daporijo, Yalam Maying, (-60 kg), GSS, Rijo, Daporijo, and Yanam Jeke, (-64 kg), GHSS, Daporijo.
The wins pushed the state to second place in the Karate National School Games ranking.
The Team was led by Tagri Raju as chief-de-mission.
Arunachal Karate-do Association President Shihan Likha Tara, General Secretary Bulang Marik and all the executive members have congratulated the medal winning players for their brilliant performances.