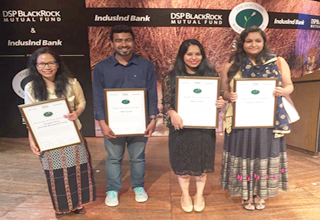 ITANAGAR, Dec 8: The Sanctuary Nature Foundation has recognised the contribution of The Arunachal Times and its Associate Editor, Tongam Rina, for their continued efforts to highlight environment and biodiversity.
The Foundation, which publishes Sanctuary Asia, India's first nature magazine, handed the Wings Under the Wind Awards to The Arunachal Times and Tongam at the National Centre for Performing Arts in Mumbai (Maharashtra) on Friday evening.
'We looked for an organisation that had enabled an employee, or had supported someone to defend nature by making resources available and by providing the intellectual space for them to follow their own green mission,' it said.
'Known for her incisive writing, Tongam has reported on issues concerning the environment, and illegal activities in the name of development,' it said. 'Her articles cover the hydro-dollar mission and power generation surge set to ravage her state.'
Through her column 'Ringside View', Tongam has shed light on the environmental unviability of the hydropower projects in Dibang Valley, Tawang and Siang basins. Tongam also became a voice of dissent through her extensive and honest reportage of the anti-dam protests that were held in 2016 in Tawang, where two protestors were killed and scores injured.
Tongam has been an equally faithful ally to the Pakke Tiger Reserve in Arunachal. She authored a series of articles, reporting on illegal logging in and around Pakke. Empathizing with the daily-wage frontline anti-poaching staff of the park, Tongam published front-page articles detailing their struggle regarding job regularization as per the directives given by the National Tiger Conservation Authority.
Fifteen individuals were recognised for their conservation efforts and services. The lifetime service award was given to Valmik Thapar, wildlife protector, tiger conservationist and author.