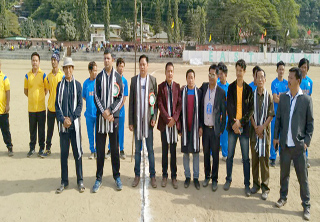 SEPPA, Dec 9: The first edition of the Lokup Yangfo Memorial 20-20 Cricket Tournament began at the general ground here in East Kameng district on Saturday.
In the inaugural match, Seppa United Cricket Club won the game against Hurricane XI by scoring 147 runs which the latter failed to chase.
Eighteen teams are participating in the tournament. The winner team will bag Rs 1 lakh cash prize, along with the trophy, while the runner-up will get Rs 50,000.
East Kameng Superintendent of Police Vikash Kumar and EKSWCO General Secretary Nikam Tallang inaugurated the tournament as chief guest and guest of honour.
Dolo Yangfo is the match commissioner of the tournament.