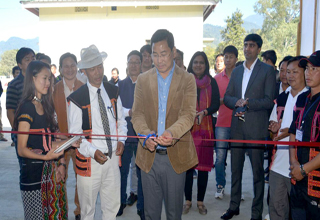 Correspondent
ROING, Dec 10: Animal Husbandry & Veterinary Minister Dr Mohesh Chai has urged the Mishmi community to encourage their children to learn and speak their mother tongue.
He said this at the inaugural function of the Golden Jubilee Central Reh Celebration (GJCRC) – 2018 Badminton Championship at the Ita Pulu indoor stadium here in Lower Dibang Valley district on Sunday.
Dr Chai reminded the people that, according to a study, 23 languages of Arunachal Pradesh are enlisted as 'critically endangered' and are on the verge of extinction, and that the Idu-Mishmi and Miju-Mishmi languages are on that list.
"We should work together in preserving and promoting our languages," said Dr Chai, and gave the example of other tribes of the state who have already incorporated their native language as the third language in their education system.
"Why wait for a script? The dialect should be introduced into the educational system while the script is being readied," he said.
Dr Chai also stressed on the importance of unity amongst the Mishmis. "We are spread across four districts but our population is very scant. Our strength lies in our unity. Exchange of good and positive ideas between these districts is essential for overall growth and development," he said.
Speaking about the prevailing problem of suicides in the Idu-Mishmi community, Dr Chai said that change has to be made in certain customs, especially in the rigid marriage system of the Idu-Mishmis.
"Discussion has to be done on the matter and some solution worked out," he said.
Dr Chai also expressed concern over the drug menace that both Lohit and Lower Dibang Valley districts are facing. He urged all to fight against it "as this problem will only take the whole community, already scarcely populated, towards darkness."
Dr Chai also launched the official website of the GJCRC – 2018.
Eighty players are participating in the championship, being organised by the Ita Pulu Badminton Club.
The finals will be played on Wednesday.