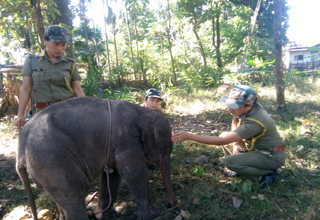 Correspondent
PASIGHAT, Dec 10: Personnel of the Mebo Forest Range Office on Thursday morning rescued a two-month-old female elephant calf from Siluk village in East Siang district, based on information from the locals.
Mebo Range Forest Officer (RFO), Obang Tayeng informed that the calf was weak and unsteady, and that it is currently under the supervision of veterinarians at the range forest office campus.
"The elephant calf is recovering now, and we have deployed 10 forest staffers to look after it. Steps have also been taken to hand it over to the wildlife department after completion of official formalities," Tayeng informed.
The forest officials suspect that the mother of the calf may have been killed by poachers or 'elephant catchers', or that it was abandoned by the mother because of some physical abnormality.
It may be recalled that many wild elephants were killed in the Mebo-Siluk area and adjoining forests in Lower Dibang Valley district during the last decade.
Illicit wildlife traders gunned down two cow elephants in the forest in Siluk (Mebo) two years back. Forest officials also recovered two wild elephant calves from the Kherem jungle in Namsai district. Four elephant catchers involved in this trade were also arrested.
Tayeng said about 100 wild pachyderms, divided into two herds, roam in the Mebo forests as there is an elephant corridor there, linking to the Dibru Saikhowa National Park, passing across Daying Ering Wildlife Sanctuary and Poba Reserve Forest in Assam.
The wild tuskers entered the crop fields in villages in Mebo and reportedly trampled standing crops there.