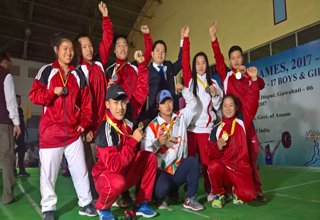 GUWAHATI, Dec 11: Arunachal Pradesh notched up one more medal on the third and final day of the National School Games Weightlifting here in Assam, bringing total medal tally to eight on Monday.
Nabam Tat bagged a bronze medal in 94 kg weight category with a total lift of 218 kgs.
He lifted 96 kgs in snatch and 122 kgs in clean & jerk.
On Sunday, Dambi Umpe and Ruba Tadu won a gold medal each in the boys' 62 kg and 69 kg categories. Liza Kamsha won the third gold in the girls' 69 kg category on the same day.
The other medal winning athletes are (Boys) Markio Tario (Sil) and Charu Pesi; (Girls) Posen Kongkang (Br) and Boni Mangkhya (Br).