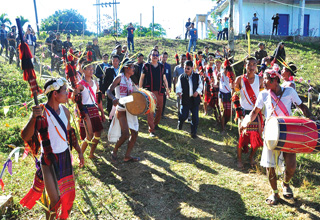 DEOMALI, Dec 11: Deputy Chief Minister, Chowna Mein on Monday laid the foundation stone for a bridge over the Bari River near Notun Kheti village here in Tirap district.
The bridge, located along the Namsang-Khela road, will connect six villages – Longkhong, Makat, Subang, Lamlo, Notun Kheti and Khela – located along the 38-km stretch of the road it's being built across.
The road project itself is being executed by the PWD, and funded under CRF. So far, out of the total of 38 kms, formation cutting has been done on 26 kms of the road.
The road is very significant for the people of the area as it will connect the six villages with the Changlang-Khonsa Trans-Highway at the 12 km point from Khonsa and shorten the distance between Deomali and Khonsa by more than 12 kms.
Mein in his address stressed on the need to have proper connectivity in order to bring development. He highlighted the state's scope in the tourism, agriculture and horticulture sectors, and said proper connectivity would enrich those engaged in the sectors.
Responding to a number of memorandums submitted by public and panchayat leaders of the area, Mein assured to look into their grievances.
Agriculture & Horticulture Minister Wangki Lowang in his address said that the DCM's visit would greatly boost the spirit of the remote villagers. The minister also apprised Mein of the difficulties faced by the people of the area.