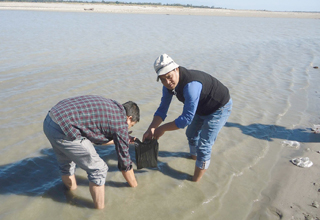 [ Prafulla Kaman ]
PASIGHAT, Dec 11: A four-member team of the North East Dialogue Forum (NEDF), led by Guwahati-based environmentalist Keshab Krishna Chatra-dhora arrived here in East Siang district on Monday and collected water and silt samples from the Siang riverbed.
Chatradhora noticed that a 6-10 inch thick sediment layer has accumulated on the riverbed, which he said was "extremely harmful to freshwater fishes and other aquatic insects."
The team also collected samples from the Brahmaputra River's bed at different locations in Dhemaji and Lakhimpur districts of Assam.
"We will analyse the water and silt samples at the Indian Institute of Technology, Guwahati, and Guwahati University laboratories to ascertain the constituents. We will also take up the issue with the central government and with the Chinese Embassy after ascertaining the reason behind the turbidity," said Tularam Gogoi, a Gauhati High Court advocate and legal adviser to the NEDF.
Meanwhile, the All Mising Students' Union (TMPK) and its allies on Monday staged a protest at 14 riverbank locations of the Brahmaputra at Jonai (Dhe-maji), Dibrugarh, Dhaku-khana (Lakhimpur), Disang-mukh (Sivsagar) and Majuli, demanding that the government deal strictly with the turbid water.
According to a report of the State Pollution Control Board, the Siang's turbidity measure should have been between 12 and 15 in Nephelometric Turbidity Unit (NTU) in the winter season. Even in the monsoon season, the rivers turbidity level marks between 295 and 329 NTU.
The muddy waters of the Siang and the Brahmaputra are causing a serious ecological catastrophe in the region with the death of many wild animals and aquatic life, besides rendering its water unfit for human consumption.
Apart from long-term turbidity, the water level in the rivers is receding and livestock on its sandbars have been badly affected.