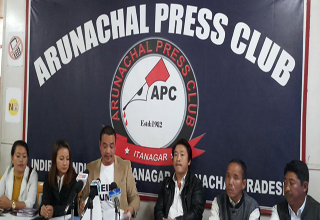 Staff Reporter
ITANAGAR, Dec 13: Reiterating its demand for the creation of a Department of Abo Tani Tradition & Culture Affairs (DATCA), the Abo Tani Clan Organization (ATCO) on Wednesday served a 7-day ultimatum to the state government to meet the demand.
Addressing a press conference at the Press Club here, ATCO President Yamra Taya claimed that "all the Tani inhabitants of the state's 15 districts will be jointly initiating democratic action in a phased manner if their demand is not fulfilled within the stipulated time."
Taya said the organisation had submitted a memorandum to Chief Minister Pema Khandu on 8 May regarding the creation of DATCA. He said the CM had assured to take up the matter in the state cabinet on 11 August for approval.
"However, the state cabinet on 11 August, 2017, instead went ahead and approved the creation of the Department of Indigenous Faith and Cultural Affairs (DIFCA), sidelining the ATCO's earlier demand," the ATCO president said.
He accused the CM of sidelining the demand and creating the DIFCA in place of DATCA. He further accused the CM of "deliberately initiating the move to change the nomenclature to DIFCA from DATCA only a day before the issue was to be placed before the cabinet for approval."
Saying that the ATCO is not opposed to the creation of the DIFCA, the organisation's Women Wing Secretary, Nabam Dipa, said that the ATCO is hurt that the CM chose to ignore its long-pending demand despite repeated representations.
"For the five major tribes of the state – Adi, Apatani, Galo, Nyishi and Tagin – which comprise 44 per cent of the state's population, the creation of DATCA would ensure socio-politico and economic development besides encouraging fraternity among the tribes," Dipa said, adding that under the department financial support would also ensure preservation and development of the clans' dialects.
She further reasoned that DATCA could be created on the lines of the Department of Karmik and Adhyatmik Affairs and the Department of Tirap, Changlang and Longding.
"If the state government can recruit 100 teachers especially for Bhoti language, it could also do the same through DATCA for the development of the local dialects of the Abo Tani clans," she said.