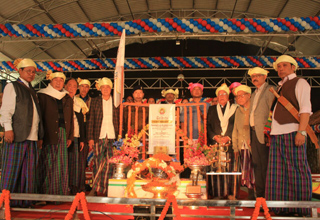 [ Indrajit Tingwa ]
NAMSAI, Dec 17: The New Year celebration of the Tai Khamtis, Poi Pee Mau Tai, concluded here on Friday.
The New Year is determined as per their lunar calendar, and this year the Tai Khamti year is 2112. This edition also completed ten years of celebrating the New Year festival, which has been a platform for community bonding and promotion of cultural heritage.
The festival commenced on 12 December with the arrival of delegates from various places at the venue, and the preliminary round of the skill driving competition for women, organised by the Manabhum Off-roaders Club of Arunachal.
Parliamentary Secretary for Environment and Forest, Chow Tewa Mein, the senior most legislator of the community, who was the chief guest of the event, said culture should not be confined only in the form of songs and dances.
"Our character is also a reflection of our culture; hence, cultivating a good character is essential to promote and protect the cultural heritage," he said.
He exhorted the young generation to participate in socio-cultural activities "and imbibe the inherent knowledge." Expressing concern over the drug menace in the district, Mein appealed to the youths and NGOs to come forward and fight it.
Namsai DC RK Sharma termed Poi Pee Mau a platform for showcasing culture and tradition, and suggested that the Tai Khamti history should be documented in written form to preserve it for posterity.
Ex-MLA Chow Khouk Manpoong also attended the inaugural event.
Floral tributes were paid to the legendary freedom fighter of the Tai Khamtis, Chowpha Plang-loo, during the event. Later in the day, the final of the skill driving competition for women was held, where Nang Sinawati Mungyak and Nang Suthamma Munglang emerged the winners.
Community dance and cultural display were the other highlights of the day.
The chief guest along with others opened the Khok-Wang (Chakravyu) and other exhibition stalls. They also released the festival souvenir and a music audio CD.
Literary and sports activities were held on 14 December, besides a community meeting and honouring of GBs, Chau-Cheley (priests), Chau-Pachau, and senior citizens of the community. Academic toppers in Class 10 and 12 were also felicitated with laptops.
The finals of the traditional games and sports were held on 15 December with a beauty pageant and a musical night starring young and talented singers of the community.
In the beauty pageant Hang Chandini Namchoom was crowned Miss Poi Pee Mau Tai 2112, while Chow Sumanta Khen was adjudged the Mr Poi Pee Mau Tai 2112.
An SHG mela was also held during the festival. It was organised by the Women & Child Development Department under the Namsai ICDS Project.
One of the most appreciative features of this edition of the festival was the mass cleanliness drive of the festival venue on 16 December, after the conclusion of the festival.