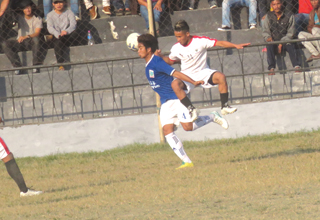 Capital Complex take sweet revenge against West Siang, enter final
Staff Reporter
NAHARLAGUN, Dec 17: A late goal from RD Karma secured Capital Complex's place in the final of the 16th Tadar Tang State Level Football Tournament as they beat defending champion West Siang 2-1 in the first semi-final match at Rajiv Gandhi Stadium here on Sunday.
It was a sweet revenge for Capital Complex as they were defeated by West Siang in last year's final.
The play started on a cautious note with both the teams making occasional forays into the rival's territory. But, as the minutes went by, both the teams started pressing hard on the opposition's half. The match was evenly poised until Karma scored in the 41st minute to give his team Capital Complex 1-0 lead in the first half.
Stung by the first-half goal, West Siang valiantly stepped up their game in the second half in a bid to draw back level. Their efforts paid dividend as Limar Loya found the equalizer in added time, causing wild celebration to erupt in the West Siang stand.
But the celebration was to be short-lived as Karma netted again a few seconds before the final shooter to seal the fate of West Siang.
In the final, Capital Complex will play against the winner of the second semi-final match – to be played between Lower Subansiri and Kra Daadi on Monday.