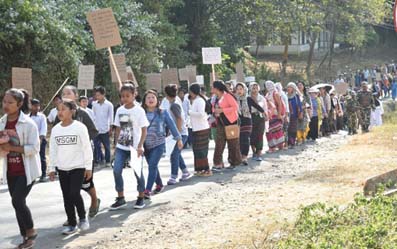 Indrajit Tingwa
MIAO, Dec 21: Members of the Tangsa and Singpho communities of Miao, Jairampur, and Bordumsa subdivisions took out a rally here in Changlang district on Thursday to protest the alleged murder of a woman.
The protestors, comprising hundreds of people, including students, holding placards and sloganeering in protest, demanded early arrest of the suspect, early delivery of the post-mortem report, and 'speedy action by the law enforcing agencies as per the FIR.'
The deceased, Rekim Jugli Mossang, about 24 years old, was a mother of two sons. She was married to one Lungseng Jugli, a resident of New Plone village in Namphai-I circle.
According to a memorandum submitted to the ADC here at the culmination of the rally, Rekim, who was living with her uncle, disappeared on 28 November, allegedly with her husband. On 10 December, her dead body was brought to her residence in an ambulance by three men, with her husband missing from the scene.
A death certificate, along with other medical documents from a private hospital in Dibrugarh (Assam), showed the cause of death as being due to some illness; but the deceased's family and relatives were not satisfied and alleged that the husband, Lungseng Jugli, was behind Rekim's death.
The memorandum further read that, 'upon physical verification of the corpse by family and relatives,' it was found that it bore deep scars and bruises, as if she had been 'brutally tortured with lethal weapons' before her death.
An FIR was lodged at the police station here, and a case under Section 302 IPC was registered. Subsequently, the inquest and post-mortem were conducted at the community health centre here on 11 December.
The villagers also submitted 'eyewitnesses' account of the dead body' when it was brought home, along with photographs, to the ADC.
While the police are on the hunt to arrest the suspect, the post-mortem report, when it is furnished, will throw more light on the case.