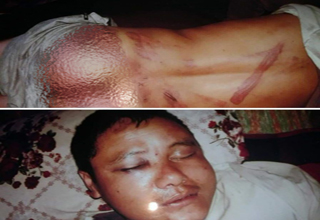 MECHUKA, Dec 28: The Boh Ramo Bokar (Adi) Elite Society (BRBES) on Thursday demanded 'stern departmental action' against policemen who allegedly beat up a local youth here in West Siang district recently.
The BRBES issued a statement claiming that on 21 December, at around 7 pm, one Dorjee Yubi of Mechuka town was brutally beaten up by police personnel from the Mechuka police station 'without any valid reason.'
The youth sustained serious injuries during the beating and had to be evacuated to Assam Medical College in Dibrugarh (Assam) for treatment, it said.
Vehemently condemning 'the inhuman act of men in uniform, who are supposed to safeguard the civilians,' the BRBES demanded that the authority concerned inquire into the incident 'and punish the culprits as per the existing law of the land.'
It has meanwhile expressed support to the Mechuka bandh declared jointly by the All Memba Students' Union, the All Ramo Students' Union, and the West Siang unit of the All Tagin Students Union in connection with the incident and also demanding restoration of electricity in Mechuka township.