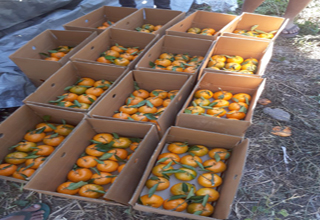 GUWAHATI, Jan 2: The first consignment of oranges from Arunachal was flagged off on Tuesday from the Lokpriya Gopinath Bordoloi International Airport to the Indira Gandhi International Airport New Delhi for Dubai.
With this, horticultural fruits from Arunachal Pradesh have made an entry into the international market under the aegis of the Agricultural & Processed Food Products Export Development Authority (APEDA) and active intervention of the state department of Horticulture.
The small consignment of one metric tonne fruit is from the orchards of progressive orange farmer Todol Pertin of Dambuk in Lower Dibang Valley district.
It was picked up by the exporter M/s Kreamery Kraft of Kolkata after ascertaining the market acceptability of the fruit from the Dambuk and Siang belt based on a small sample sent to Dubai earlier in November 2017.
Similar exercises of testing market acceptability for Arunachal kiwi was also carried out which has received encouraging response, laying the groundwork for large scale export of the fruit in the coming harvest season.
This was a follow-up to the discussions during the World Food India Event 2017 held from 3 to 5 November, 2017 in New Delhi, where Arunachal Pradesh had participated and expressed its desire to follow in the footsteps of Tripura, which had exported its pineapples to Dubai using the newly established cold storage facilities in the IGI airport.
The Secretary of Horticulture informed that the state had also benefitted enormously as a result of the B2G and B2B discussions in the aforesaid event, as the kiwis from Ziro area had been lifted in large quantities by firms and businesses from Jaipur and Guwahati as well as Big Basket.
Despite the delay in season for kiwi in November last year, 35 metric tonnes have been supplied to these businesses, though the entire demanded quantity of Grade-A fruit could not be supplied.