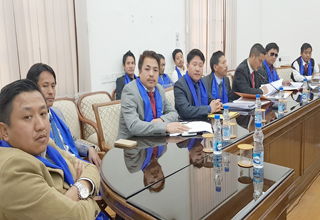 NEW DELHI, Jan 4: The people of Arunachal Pradesh will never accept granting of citizenship to refugees including the Chakmas and Hajongs, said All Arunachal Pradesh Students' Union (AAPSU) President Hawa Bagang during a joint high-power committee meeting on the vexed Chakma and Hajong issue held here on Thursday.
Casting aspersion on the sincerity of the central government to resolve the issue, Bagang highlighted the atrocities committed by the refugees against the indigenous people of the state.
AAPSU General Secretary Tobom Dai on his part suggested that Chakma and Hajong delegations grab the golden opportunity of citizenship outside the territory of Arunachal Pradesh without too many preconditions.
Asking for citizenship with unrelenting attitude within Arunachal Pradesh will boomerang and the people of the state will never accept it, he added.
The meeting was chaired by Joint Secretary North East, Union Ministry of Home Affairs, Satyendra Garg.
Arunachal Pradesh Home Secretary GS Meena, along with Chakma and Hajong representatives and an AAPSU team attended the meeting, which was convened as a follow-up to the AAPSU's demand during the all-party meeting held in June last year in Itanagar to seek an early solution to the refugee issue, according to an AAPSU release.