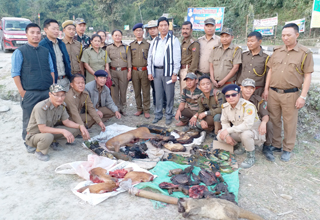 ITANAGAR, Jan 4: The forest department caught a large haul of wild meat on 3 January during a daylong search at Midpu forest check gate, Doimukh.
The meat haul was seized from vehicles coming from Kurung Kumey, Kra Daadi, Upper and Lower Subansari, and East Kameng districts, and from Sagalee in Papum Pare district, according to information received from Banderdewa Forest Division ACF, Mito Rumi.
The Banderdewa Forest Division informed that the seized wildlife articles included huge quantities of Himalayan civets, deer, wild doves, green barbets, wild fowls and wild squirrels.
Legal proceedings have been initiated against the offenders under various sections of the Wildlife Protection Act, the department said – but no arrest has been made.
The forest team also collected revenue of Rs 25,110 as royalty and penalties for minor forest produce that were being transported without permit.
DFO Neelam Nedo said more such surprise checks will be carried out across the division in the days to come.
Apart from the DFO and the ACF, the forest team included RFOs D Dastidar, Chan Buru, Tanga Murtem and Mayuk Lamgu, and frontline staffers from the Banderdewa and Doimukh Forest Ranges.
The seized wildlife carcasses were later destroyed in the presence of Doimukh SDO Ibom Tao and Doimukh PS OC, B Tangzang.