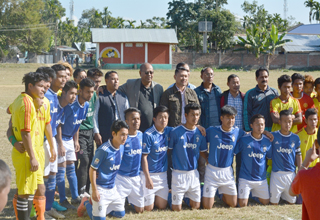 NAMSAI, Jan 4: The Hangpan Dada Memorial Trophy on Football and Volleyball (men & women) 2017-'18 began here on Thursday.
The tournament was officially kicked off by Planning Parliamentary Secretary Chau Zingnu Namchoom.
Addressing the gathering, Namchoom said games and sports are an integral part of students and youths lives, and spoke about the state government's emphasis on maximum participation of schoolchildren and youths in the tournaments.
He advised the students to "partake in games and sports to enjoy good health, besides spending time on academics."
Also attending the opening day, Namsai ADC B Talukdar said that "the objective of games and sports is to develop better persons," and that winning or losing was secondary.
Earlier, DSO (Sports) BC Das explained the objective of the event and requested all participants to maintain discipline throughout the tournament.
Among others, ZPC Chaw K Munglang, EAC R Karlo, DMO Dr Nani Rika, and ZPM CM Chowpu were also present.