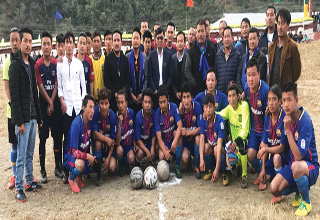 KALAKTANG, Jan 4: An inter-village football tournament organised by the All Kalaktang Monpa Students' Union (AKMSU) got underway here in West Kameng district on Thursday.
Altogether 13 teams are participating in the tournament, which is scheduled to be held from 4 to 26 January.
The opening match was played between Boha and Komlangchen, which Boha won by 1-0 goal.
Attending as guests, Kalaktang Employees Welfare Association President Dorjee Wangdi Kharma, the West Kameng DDSE, and All West Kameng Students' Union General Secretary Tarun Dajangju advised the players to display team spirit and discipline on the ground.
They also appealed to students and youths to stay away from alcohol and drugs.