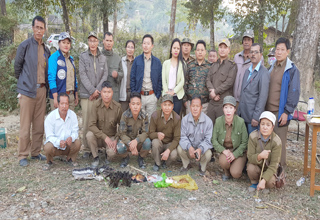 BANDERDWEWA, Jan 9: A huge quantity of wildlife meat and carcasses, and trophies made of wildlife were seized at the forest check gate here by officials of the Forest department on Tuesday.
The seized items included meat of the Himalayan civet, dried squirrels, parts of an eagle, and trophies made of other wildlife. These items were seized from vehicles coming from Kimin and Pasighat, informed Range Forest Officer Tanga Murtem.
Later, the seized items were destroyed in the presence of the Banderdewa circle officer and the ASI of the Banderdewa police station.
"Legal proceedings have been initiated against the persons suspected to be involved in the racket, who will be dragged into the court for further proceedings," Murtem said.
DFO Neelam Nedo, under whose instruction the operation was carried out, has affirmed of more such checking.
On 3 January, officials of the Banderdewa Forest Division had seized huge quantities of Himalayan civets, deer, wild doves, green barbets, wild fowls and wild squirrels at the Midpu forest check gate.
The meat haul had been seized from vehicles coming from Kurung Kumey, Kra Daadi, Upper and Lower Subansiri, and East Kameng districts, and from Sagalee in Papum Pare district.
Illegal hunting, fishing case resolved
Meanwhile, the United Sangdupota Intellectual Youth Forum (USIYF) on Tuesday said a group of people who had indulged in illegal hunting and fishing on the banks of the Papum river in Sangdupota circle have been fined, and that an apology has been extracted from them, along with assurance that they would not indulge in such activities in the future.
The USIYF filed an FIR at the Balijan police station on 5 January against a group of people from outside the locality for violating the laws of the panchayat and youth association in Sangdupota circle by allegedly indulging in illegal hunting and fishing.
According to the FIR, the group, led by one Rigio Turu and Kipa Karo, allegedly set camp on the banks of the Papum river on 31 December, 2017, and were found engaged in hunting and fishing activities by locals of the area.
Claiming that the group polluted the river with their chemical explosions and destroyed the flora and fauna of the area, the USIYF requested the police to take appropriate action against the group for violating the Wildlife Protection Act, as well.
However, it said, after thorough discussion and debate, the USIYF and the All Bassarnallo Youth Association (ABYA), with the support of gaon burahs, panchayat leaders and senior citizens, settled the case on 8 January.
According to a release, the violators were 'imposed with a penalty as per the byelaws, and issued a written apology, with assurance that such an act would not be repeated in the near future.'
Meanwhile, the USIYF and the ABYA on behalf of the public of Sangdupota circle appealed to all outsiders visiting the area to seek permission from the authorities concerned before carrying out activities like picnic and fishing.