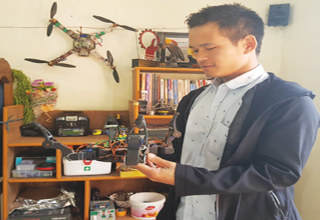 [ Nellie N Manpoong ]
A robotics prodigy from the small village of Nyapin in Kurung Kumey district, Anang Tadar, has been making the headlines for his innovative creations, and receiving accolades from all over the country.
Sitting in his one-bedroom rented apartment in Nirjuli with gadgets galore, the 20-something innovator has made the most out of the resources available at hand.
With eight other siblings still studying, and parents who work as farmers, Anang says it was difficult to follow his passion for mechanics.
"As far as my memory takes me, I remember how everyone was playing sports in school while I was busy making a cube out of wood and observing mechanical toys around me," says Anang, whose teachers often used to tell him to join the other children in sports activities.
A little shy to admit that he is academically weak, and that mathematics was one of the most dreaded subjects, Anang does make it a point to state that he dives into books that provide him more knowledge on mechanics.
After completing class 10 from the Navodaya Vidyalaya in Doimukh, this boy genius joined the base model of the NERIST and gained more knowledge on robotics for the next two years.
Since he could not complete his higher secondary school education, Anang joined the New Galaxy Academy in Nirjuli, and is expected to appear for his class 12 board examinations in March this year.
A worthy recipient of the Dr APJ Abdul Kalam IGNITE Awards 2017 (from the National Innovation Foundation India), Anang made his presence known to the advanced-technology community with the Goggles for Blind (or the G4B, as he likes to call it).
Anang shared how a professor from the NERIST discovered his page, 'Evolution and Extinction', on Facebook, and encouraged him to try for the Innovation Festival at the Regional Science Centre in Guwahati last year. The professor forwarded his name to the Science and Technology department, which further recommended his name for the festival.
He demonstrated his prototype goggles to the judges, and won first place with ease.
Many are already aware that the G4B is a pair of goggles or sunglasses created for the blind, using echolocation technology.
The goggles have ultrasound sensors in them. The ultrasound frequencies bounce back when an object is close by, and the goggles start vibrating or beeping sounds. These vibrations and sounds increase as the person or object start to get closer to one another.
However, it has not been an easy ride for Anang.
He says that he had been working on the pair of glasses for a long time, but since he was short on funds, it took him longer than expected to create it.
He recalls how he would walk almost every other day from Nirjuli to Doimukh to use his friend's computer and work on its programming.
"I would save up every single rupee possible (his pocket money from home) to buy parts for my projects, and I've sacrificed a lot along the way to create things I'm passionate about," says Anang, who was later able to buy a computer and other required tools with fund provided by Chief Minister Pema Khandu.
The National Innovation Foundation, which promotes new innovations, also helped him patent his G4B and awarded him a sponsorship of Rs 1 lakh, which he shall receive in parts for a few months, till the entire amount has been received.
If the final prototype is ready, the UNICEF has also assured help to promote and market his invention in the market.
Anang also showed his other robots, which he said could work effectively on all terrains and help a border state like Arunachal Pradesh in military and rescue operations.
The boy genius has also made a drone at home, and is working on making it work more efficiently. He said that he is working on already existing technology to gain more knowledge out of it.
Even with all the recognition, and some fund coming in once in a while, the journey ahead is still uncertain for this young man as he is yet to get a stable source to fund his projects and inventions.
Speaking to this daily, Science and Technology Director Dhanya Mungyak said that the department is set to adopt Anang officially towards the end of this financial year and fund his projects and their requirements.
"We are keen on financing his projects and encourage other innovators like him. But for this to be a reality, the state government also has to set aside funds, which we hope will be considered," added Mungyak.
For now, the young inventor, who has a love-hate relationship with maths, is prepping for his board examinations. Once the examinations are over, he said, he will devote all his time to developing the final prototype of the G4B.
Giving a demonstration of his drone before bidding goodbye, Anang says that his love for machines will only continue to soar from here on.