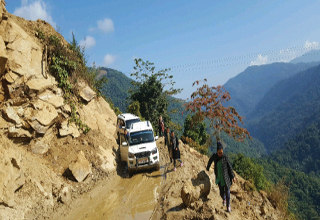 PALIN, Jan 10: Kra Daadi Zilla Parishad Chairperson Rido Meena appealed to the state government to restore the blocked points at Choba and Rachi streams along the Palin-Koloriang road before the onset of the monsoon.
'The said road is considered as the lifeline for the people living in these two remote districts and failure to do timely restoration will definitely cut-off many circles of both the districts in the coming monsoon', the ZPC said in a release.
She said that commuters passing through this road are facing much difficulty even now and if timely restoration is not done, 'the situation is going to worsen' in the coming monsoon.
'Since the compensation for Trans-Arunachal Highway at Kra Daadi district has been disbursed, the government should do the needful to start the road construction work of the Palin-Koloriang part of the TAH,' the ZPC added.