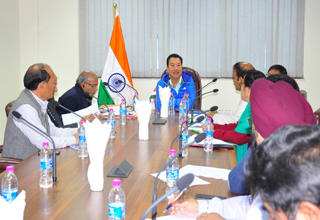 ITANAGAR, Jan 10: Deputy Chief Minister Chowna Mein has asked the officers concerned to expedite the construction work of the boundary wall of the plot allotted for new guest houses/Arunachal Bhawans at Guwahati and Delhi.
The DCM gave this directive in a high level meeting held here on Wednesday with the Chief Secretary, Commissioners and Secretaries of concerned departments to discuss the issues concerning the construction of new guest houses.
He also called to start construction work of these guest houses in a time bound manner.
Informing that the fund for construction of boundary wall for the allotted land at Guwahati has already been provided last year, Mein said the construction work has to be expedited to prevent the area from encroachment.
He pitched for immediate construction of these guest houses stating that every year a large number of students and patients go to Delhi and Guwahati for pursuing their higher studies and medical treatments but cannot afford the high cost of hotel rooms in these cities.
'It will be of immense benefit to the patients of critical illness and poor students', he said.
Mein said to keep fund provision for the construction of the new guest houses/Arunachal Bhawans in the next budget and to bring the matter to the Cabinet for a final decision. The guest houses should be given traditional touch of the state, he added.
A committee under the chairmanship of Principal Resident Commissioner, New Delhi with members as Secretary Finance, General Administration, Town Planning, Chief Engineer (WZ) and Additional Resident Commissioner, New Delhi was formed to look into the issue.
Earlier, Secretary GA Azimul Haque informed that two plots of land measuring 2600 Sqm at Dheerpur and 1750 Sqm at Dwarka near IGI Airport in New Delhi and one plot of land measuring 1340 Sqm at Roopnagar near Guwahati Medical College in Guwahati were procured by the Arunachal Government last year for construction of new guest houses/Arunachal Bhawans.
Among others, Chief Secretary, Satya Gopal, Commissioner Finance (Link Officer) Marnya Ete, Secretary to Chief Minister, Sonam Chombay, Secretary (Home) and Commissioner PWD (Link Officer), G S Meena, Secretary (Finance), Y W Ringu, Secretary UD, S K Jain and Secretary (Town Planning), S Singh were present in the meeting.