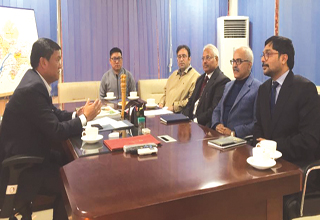 Centre seeks state support on rural electrification
NEW DELHI, Jan 17: 'The Kameng (600MW) Hydro electric power project and the Pare (110 MW) hydro electric project would be commissioned by March 2018', informed Union Power Secretary Ajay Bhalla during a meet with Chief Minister Pema Khandu in New Delhi on Wednesday.
The union secretary said that the prime minister will be requested to inaugurate the power plants, executed by the NEEPCO.
During the meeting, Bhalla sought the support of the CM for expeditious completion of the rural electrification programme under the Deen Dayal Upadhyaya Gram Jyoti Yojana.
Out of the 319 villages which were to be electrified on the grid mode, 204 have already been electrified and 115 villages remain to be electrified.
Apart from this, 901 villages are being electrified on the off-grid mode through household solar power installations.
Pema said that he had issued directions to the officials of the state Power department to complete the process of electrification by February 2018 as electrification to each and every household has been on the priority card of Prime Minister Narendra Modi.
Bhalla mentioned that 140 villages which are within 2 km of the grid would also be executed on the grid mode for reliable and continuous power supply. The CM agreed with the suggestion and mentioned that action would be taken accordingly.
The Power secretary also informed the CM that the Government of India had decided to add new 132 kv transmission projects on the Khupi -Tawang, Bomdila-Kalaktang and other missing links under the comprehensive scheme over and above the existing projects.