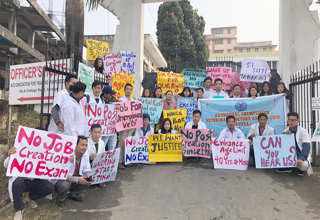 Staff Reporter
ITANAGAR, Jan 27: Protesting against the state government for allegedly failing to address their long-pending demands, aspiring candidates for the post of veterinary doctors, under the aegis of the Arunachal Unemployed Veterinary Doctors' Association (AUVDA) on Saturday boycotted the recruitment examination for 21 posts of veterinary officers, which was to be conducted by the Arunachal Pradesh Public Service Commission.
The aspiring candidates staged a dharna in front of the Commission's gate this morning, holding placards reading 'No job creation, no exam'.
The department had created 21 posts of veterinary officers (VO) months ago and submitted them to the Commission for conducting the examination. Reportedly, 71 candidates applied for the 21 posts.
"We will not sit in the examination hall until our demands are met," said an aspiring candidate, and accused successive governments of meting out step-motherly treatment to veterinary graduates.
The AUVDA has been demanding that the state government create 158 new posts of veterinary officers and offer unconditional relaxation to APST candidates who have attained 40 years of age.
Later, addressing a press conference, AUVDA president Dr Koj Morchi accused the state government of depriving qualified veterinary doctors by refusing to create posts in the department.
"Since 1986, not a single VO post has been created. Rather, all the VO posts in the department which were vacated through retirement were being filled through promotions," Dr Morchi claimed.
The association said that the current VOs are overburdened with duties because of the absence of sufficient VOs. It argued that revamping the department would be beneficial to the state's economic growth in dairy and livestock production.
Blaming the state government for ruining veterinary graduates' lives by depriving them of job opportunities, the association demanded a unilateral age relaxation for candidates who have attained the age of 40 years, adding that it should be 45 years for APST candidates.
The association said that other states have already implemented relaxation of the upper age limit.