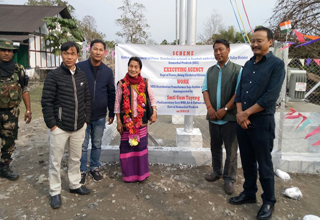 Staff Reporter
ITANAGAR, Jan 27: The people of Bizari village in Dambuk subdivision of Lower Dibang Valley district had a reason to smile on the eve of Republic Day as Art & Culture Parliamentary Secretary Gum Tayeng switched on the power line to the village, illuminating the area after 24 years.
Tayeng switched on the power line in the presence of Dambuk ADC Atul Tayeng, officials of the Power department, panchayat leaders, and others.
With 61 houses (according to the 2011 census), Bizari is located at a distance of around 37 km from Dambuk subdivision, and 42 km from district headquarters Roing. The village had been without electricity for two decades after the mini hydel in Dambuk stopped functioning due to various reasons.
Bizari was once a bustling village with a plywood mill, a bank and rows of organic vegetable gardens. The village faces nature's fury every year in the form of floods. Electricity was one of the essential amenities that the villagers needed for decades.
According to a villager, they used lanterns and candles to light their homes in the absence of electricity.
"This is the first time that the village has been electrified, and everybody is happy. It was good to see the faces of the villagers greeting the light for the first time after so long," said a PRI leader.
Sanctioned under the NEC's Dambuk-based System Improvement of Power Distribution Network, the 100 KVa 11/415 line will meet all the electricity needs of Bizari village, informed Junior Engineer Vikash Pertin.
He also informed that under this scheme many more villages, including the ADC office, will be electrified.