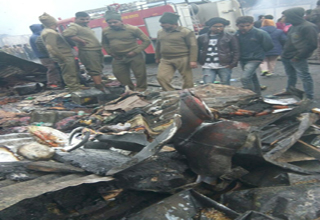 Staff Reporter
DIRANG, Jan 27: More than 45 houses and shops were reduced to ashes in the main market here in West Kameng district when a fire broke out around noon on Saturday.
The cause of the fire is not yet known.
"The devastating fire spread on both sides of the narrow road, claiming several shops and houses in a span of one hour," said CO Koj Yabiyang. She said that the exact number will be known only after investigation is over.
The BRO, the ITBP, and the NIMAS pressed their water tankers into service while fire tender was called from Bomdila, which is more than an hour away.
Most of the houses burnt were shop-cum-residential buildings.
There are no reports of injury to anyone, but the number of the houses damaged is expected to go higher.
Most of the affected are taking shelter at the homes of their relatives, while some have been accommodated in the inspection bungalow.
In March last year, two people had lost their lives in a major fire incident on the outskirt of Dirang town.