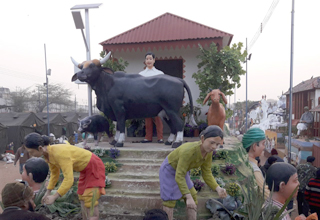 ITANAGAR, Jan 27: Mithun, the bovine species common to Arunachal Pradesh and other states of the Northeast, was showcased at the Republic Day parade this year in the Indian Council of Agricultural Research's (ICAR) tableau.
The ICAR in its tableau exhibited the integrated farming system – a judicious mix of two or more agri-enterprise systems which helps support eco-friendly production, enhances employment and income, and enriches family nutrition.
Director of ICAR-NRC on Mithun, Dr Abhijit Mitra said exhibiting the mithun in the tableau "vindicated the importance of mithun husbandry for doubling the income of the tribal farmers of the region."
He said the mithun is the only livestock species in India which has the distinction of being the state animal of two states – Nagaland and Arunachal Pradesh.
"It is primarily reared as a meat animal, but it has a potential as a source of milk, hide, and animal-power. Mithun also helps in improving forest health, and is known as 'nature's gardener'," he said.