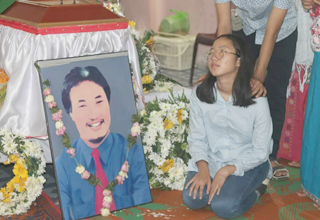 ITANAGAR, Jan 29: The family members of former MLA Ngurang Pinch, who died on 18 November last year, has called on Chief Minister Pema Khandu to hand over the case to the CBI.
The family claims that Pinch was murdered by his closest friends.
'His body was also left with no one to claim for nearly seven hours near the river. With endless plotting and planning, eventually allowing the 20 members to tamper the evidence,' read a statement from the family.
They alleged that, according to the statements given by the three girls who were part of the rafting expedition, one of them had burnt the blanket used by Pinch.
'Despite such and other strong evidence, the person is still at large,' the statement said, and questioned the SIT, which is investigating the case.
The family has said that there has to be a fair trial, 'so that the case is not buried under the influence of criminals and the influential.'
Police have arrested Ngurang Abhram, Ngurang Nega and Ngurang Tongke.
However, the police said that it have not been able to pin point at a particular cause for the death of the former minister. According to police, the post-mortem report says that the reason of the death was drowning, and that the report does not mention any details of injuries.
The family disputes this. They said that there is photographic evidence that says otherwise.
Pinch's family members have been demanding that the CBI take over the case from the SIT as well as arrest of 'all the two suspects'; seizure of their mobile phones and submission of the phone records; and 'exposure of the sex racket involving young girls in Arunachal Pradesh.'
There were seven girls that were part of the rafting expedition.
Pinch died on 18 November last year during a rafting expedition with his friends. Many prominent personalities, including former ministers Tater Kipa and Atum Welly, were also part of the rafting team.
Both the former ministers deny any wrongdoing.