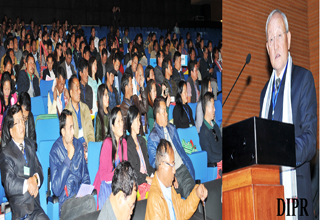 Staff Reporter
ITANAGAR, Jan 29: Legislative Assembly Speaker TN Thongdok on Monday exhorted panchayats and municipalities to bear responsibility for ensuring effective governance.
The speaker was addressing the inaugural function of the two-day state level panchayat sammelan for chairpersons and PRI functionaries, at the multipurpose legislative assembly hall here.
"The time has come for the panchayats and municipalities to bear the responsibilities of governance," Thongdok said. He said responsibility should be given to the chairmen of the panchayats and the municipalities to execute the laws governing their jurisdictions.
"If there is a law-and-order failure in a locality, the first responsibility must be borne by the respective panchayats. Then only decentralization shall be deemed worked," Thongdok said.
"Although 29 functions have been devolved to the PRIs, we have not been able to make the PRI function effectively due to lack of manpower," he lamented.
The speaker advocated providing proper training and planning for effective functioning of the panchayats. He said "the physical plan must be in tandem with the availability of resources."
Terming the Panchayati Raj & Rural Development department "the mother department of the state," RD Parliamentary Secretary Mama Natung said development must begin from the village level.
"Until and unless the villages of the state are developed, Arunachal cannot be known as a developed state," Natung said, adding that the key to development was in the hands of the panchayat members.
Natung outlined the roles and responsibilities of PRI members to create an atmosphere of development and to educate illiterate panchayat members on the guidelines and provisions of various programmes.
Informing that the state government is transferring funds straight to the beneficiaries' bank accounts under the Gram Panchayat Development Plan, Natung exhorted PRI members to convert the funds into "quality development in the villages."
He said the state government will soon announce an award for panchayat leaders whose villages have achieved the development target.
Rural Development Director Komkar Dulom said "the PRIs have the greater responsibility not only in the development of the respective panchayat segments but also in protecting the environment."
SIRD Director Nyali Ete highlighted the major objectives of the interface, and dwelt on the need for participation of the grassroots institutions for effective, efficient, and transparent planning and implementation of programmes.
Highlighting the liability of the state government towards the panchayat staffs, who have not received their salaries for the last seven months, he appealed to the state government to also enhance the honorarium of panchayat leaders as per the regulations of the 2nd Pay Commission.
Hundreds of PRI members from across the state participated in the inaugural day of the sammelan.