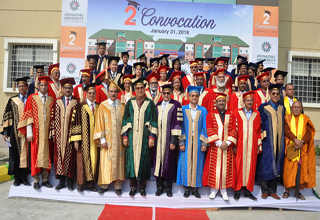 NAMSAI, Jan 31: Deputy Chief Minister Chowna Mein on Wednesday attended the second convocation of the Arunachal University of Studies (AUS) here.
Speaking on the occasion, Mein said Namsai district is advancing in various fields. He said though district is well connected through road communication much is needed to improve internet and marine connectivity and emphasized the need for improvement in health care sector.
Further, the DCM said the Arunachal University of Studies has one of the most beautiful infrastructures and that it was imparting quality education and is proving to be an educational hub.
Mein congratulated mountaineers Anshu Jamsenpa for being conferred honorary doctorate degree and Tine Mena who was conferred with Young Achievers Award. He termed the duo as symbols of women empowerment and torch bearers of women folks.
Mein also called upon the Director ICAR who was present at the function to spread the activities of ICAR in the state for advancement of agri-horti sector.
The DCM also expressed concerned with the rise in drugs abuse in the region and appealed to the youths to take up cudgel to fight the drug menace. He said that the Khamti society which has its own script was once very advanced but unfortunately today is lagging behind in various fields.
Mein also presented the honorary doctorate degrees and the gold medals to the achievers.
Namsai MLA cum Parliamentary Secretary Planning Chow Zingnu Namchoom termed the day as historic and congratulated the recipients of both honorary and regular degrees.
He said the stature of the university has gone global with the signing of MoU with Maejo University and Chiangmai University, Thailand. He said that the world is open for all but each one must strive hard to succeed in conquering it.
The Arunachal University of Studies had conferred honorary doctorate degrees to ace everester Anshu Jamsenpa, MoS Home Kiren Rijiju and Thanapat Choompolsil from Thailand.
In her speech, the world record holder mountaineer and five times Mt Everest summiteer Anshu Jamsenpa extended her sincere gratitude to the Board of Directors of AUS for considering her worthy of the honorary doctorate degree.
President World Education Mission Dr AL Agrawal, Chancellor Shobhit University UP KS Vijendra, Chancellor AUS Kamal Lochan, and recipients of honorary degrees also spoke on the occasion.
Later in the evening, the DCM, accompanied by Namchoom also attended the Me-Dam-Me-Phi celebrations of the Tai Ahom community at Rongalibeel along with guests from Thailand.
Speaking at the event, he expressed the need for Tai Ahom resurgence while commending STAR (Society for Tai Ahom Resurgence) which is spearheading the revival of the unique age old culture and traditions.
He urged all the Tai groups to unite as a family and called upon the upcoming generation to take forward the rich legacy.
Me-Dam-Me-Phi is celebrated to offer tributes to the forefathers and ancestors.