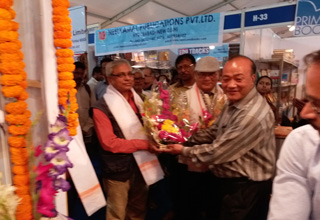 KOLKATA (West Bengal), Feb 3: Arunachal Pradesh has been illuminating in the 42nd International Kolkata Book Fair with its thematic presentation of its exhibition stall in the Priya Ranjan Das Munsi Hall here.
The theme of the interior decoration this year is 'Economic activities of the people of Arunachal Pradesh' – a reflection of the cultural heritage of the ethnic communities of the state. It focuses on the different modes of agriculture, adoption of horticulture products, painting and weaving as economic pursuits of the people.
Sahitya Akademi awardee YD Thongchi inaugurated the exhibition stall on Saturday and released four titles of research publications prepared for the occasion. Thongchi was instrumental in the state's participation in international book fairs during 2012 when he was the cultural affairs commissioner.
The four titles released are: Economic Pursuits among the Tribes of AP, edited by Batem Pertin, RN Koley and Dr Radhe Yampi; Folktales of AP, edited by Batem Pertin, RN Koley and S Chanda; Understanding Arunachal Pradesh by RN Koley; and Udit Surjer Deshe (Bengali) by RN Koley and S Chanda.
Thongchi lauded the yeoman service extended by the Research department to focus Arunachal Pradesh in proper perspectives through the publications as permanent sources of documentation.
Kolkata DRC S Nath said the Bengali book by RN Koley would be conducive for tourism and for highlighting Arunachal Pradesh.
Aaz Kal news editor Arup Basu also spoke.