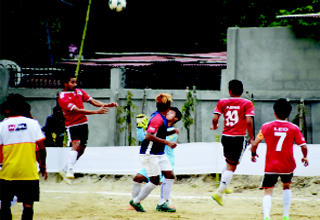 MODEL VILLAGE, Feb 3: Black Warrior FC on Saturday defeated Commando FC by 4-1 goals in a league match in the ongoing Nexa Model Super League (MSL)-2018 at the football ground here.
Black Warrior FC dominated the match from the beginning, and Toko David easily scored the first goal for the team six minutes into the game.
Tamchi Tungbing and Likha Joel scored two more goals in quick succession in the first half.
Tungbing scored his second goal in the second half in the 61st minute.
Commando FC managed to score when Dari Lugu's shot hit Black Warrior FC's Techi Raja and deflected into the net.
Later, captain of Black Warrior, Toko David was presented with the 'man of the match' award.
Earlier, on the opening day, Commando FC and Black Warrior had drawn 1-1.
The next match is set to be held next Saturday.