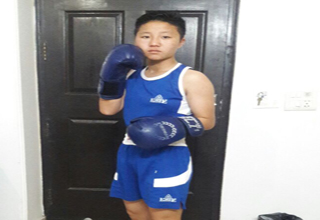 NEW DELHI, Feb 3: Young pugilist Yaro Maying of Arunachal Pradesh on Saturday outclassed her opponent Lina Vani of Gujarat in a first-round match of the first Khelo India School Games being held at Nehru Stadium here.
Maying won the bout 5-0 in the girls' 44 kg-46 kg category and entered into the quarterfinals.
She will now be up against Pavithra of Tamil Nadu in her next bout, informed team manager Gourey Oinam.
Arunachal Pradesh has fielded 26 athletes in the Games.
Prime Minister Narendra Modi inaugurated the nine-day event on 31 January.
In his speech, Modi said it was the first step towards making the country a strong contender at the Olympics level.
The best 1,000 athletes will get scholarship of Rs 5 lakh every year for eight years.
"We have decided to select 1000 kids every year from different sports and provide them Rs 5 lakh per annum for eight years," he said.
Besides boxing, the state will participate in judo, archery, weightlifting and badminton.
While weightlifting, badminton and judo events will start on 5 February, archery will start on 6 February.