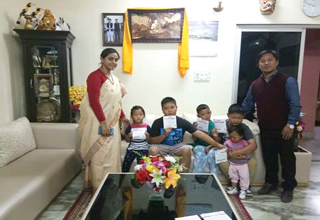 ITANAGAR, Feb 3: Clearing the air on a false video circulating on the side effects of the measles-rubella (MR) vaccine, Chief Minister Pema Khandu got his children vaccinated on Saturday.
Taking cognizance of the target set by the Centre for eliminating measles by 2020 and controlling the rubella virus, he appealed to parents to bring their children between the ages of nine months and 15 years forward and vaccinate them.
Health & Family Welfare Parliamentary Secretary Phurpa Tsering also called upon the stakeholders to help in achieving the target of keeping the state free from measles and rubella infection.
Meanwhile, NHM MD Dr Tapasya Raghav reiterated the necessity of immunization to reduce chances of getting vaccine preventable diseases amongst children. She stressed that the vaccines are safe, potent, and are provided free of cost by the government.
State Immunization Officer, Dr D Padung also informed that the vaccine is free from side effects. Emphasizing on the significant role of the vaccine, Dr Padung said every child, irrespective of previous vaccination status, has to be covered.
Approximately five lakh children between the ages of nine months to 15 years are targeted to receive a single shot of the measles-rubella vaccine under the measles-rubella vaccination campaign launched across the state.