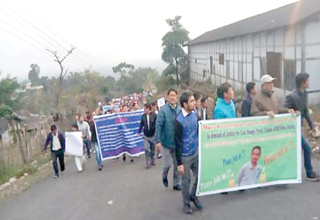 MEBO, Feb 10: Hundreds of people participated in a candlelight procession here in East Siang district on Saturday, demanding justice for 39-year-old Bomge Nyori, who was brutally murdered inside the Rural Bank branch office here on 7 February while he was on duty.
Nyori was a cashier at the bank.
The procession was organized by the Mebo Intellectual Forum (MIF) in association with the AMCSU, the AESDU, the ABSU and others. It witnessed a massive turnout of people from every community.
Speaking about the incident, MIF protocol secretary Maktil Apum expressed grief on behalf of all the communities residing here.
Saying that criminals do not belong to any religion or community, he appealed to all the communities to fight against criminals. He also appealed for justice for the deceased.
The participants observed a two-minute silence as a mark of respect to the departed soul.