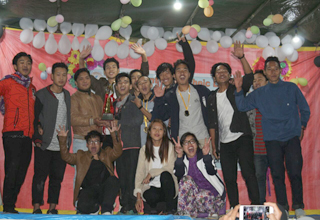 LAYING, Feb 11: The annual function, CLASH (Cultural, Literary and Sports Huddle), of the government polytechnic here in Kurung Kumey district concluded on Saturday. The three-day extravaganza witnessed active participation of the students in various extracurricular activities.
Marking the end of CLASH, a valedictory function was organized and prizes were distributed to the winners of the respective houses.
Addressing the students on the occasion, the institute's principal, Taba Tath, congratulated the staff and students for successfully conducting the first annual week function. He advised the students to maintain their tempo and show the same zest in their studies.
The students were divided into two houses – Kurung and Kumey. The latter emerged the champion of CLASH 2018.