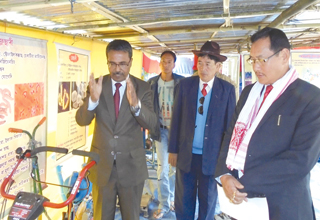 State Govt submits Rs 95 cr sericulture project proposal to CSB
Correspondent
RUKSIN, Feb 14: The Central Silk Board (CSB) under the Union Ministry of Textile organized a daylong 'Resham Krishi Mela cum Exhibition' at the Sille Sericulture Farm in East Siang district on Wednesday.
Attending the inaugural session, State's Commissioner of Textile and Handicraft, Tahang Taggu informed that the state government has submitted proposal of sericulture project worth Rs 95 crores to the CSB.
He asked farmers to take up sericulture on commercial basis and take expert guidance to solve their problems related to sericulture activities.
"We have prepared a five-year plan for rearing mulberry, eri and muga silks in the state. We are planning to extend the activities to every feasible area", said Taggu, while adding that the state is dependent upon central funding to implement the projects.
The commissioner asked the beneficiary farmers and government officials to work with team spirit for successful implementation of the sericulture projects.
Scientist from Regional Sericulture Research Station (RSRS), Jorhat (Assam) Dr S N Gogoi informed that the CSB has been implementing 'Integrated Bivoltine Sericulture Development Project' covering Mulberry project in East Siang district and about 350 acres has been brought under cultivation so far.
According to Gogoi, there is budgetary estimate of Rs 230 crore for Northeast states, including Arunachal Pradesh to run a three-year sericulture project.
He informed that the scientists have recommended S-1635 high yielding mulberry plant for rearing silk breed SK-6, SK-7 and B-coccon-2 for the state, suitable for the culture.
Scientist from Behrampore (West Bengal) based Central Silk Research & Training Institute, Dr Jakir Hussain lamented that plantation (food-plant) activities under the IBSDP in northeastern states has not meet the target in Arunachal and it would take two more years.
Pasighat ADC T Borang urged the farmers to adopt agriculture and allied activities for economic self reliance. He requested the CSB officials to extend the project activities to all potential districts in the state, while Sille-Oyan Block ZPM Tajing Taki encouraged rural farmers to bring a "green revolution" in the region through massive sericulture activity.
The programme was followed by a technical session, wherein the scientists elaborately explained to the farmers on rearing and maintenance of silk works such as mulberry, eri and muga. They also responded to various queries raised by the silk rearers.
A total of 50 silk rearers from East Siang and Upper Siang districts attended the Resham Krishi mela.
The silk produces and machineries used in processing of silk yarn were also displayed in the exhibition stalls. A booklet titled 'Silkworm diseases and pest management', jointly authored by RSRS scientists – Dr SN Gogoi and U C Baruah was also released on the occasion.
Among others, Assistant Director of Sericulture Opum Jamoh, Technical Assistant of Resham Extension Centre, Sille Subedhar Pertin and department officials attended the programme.