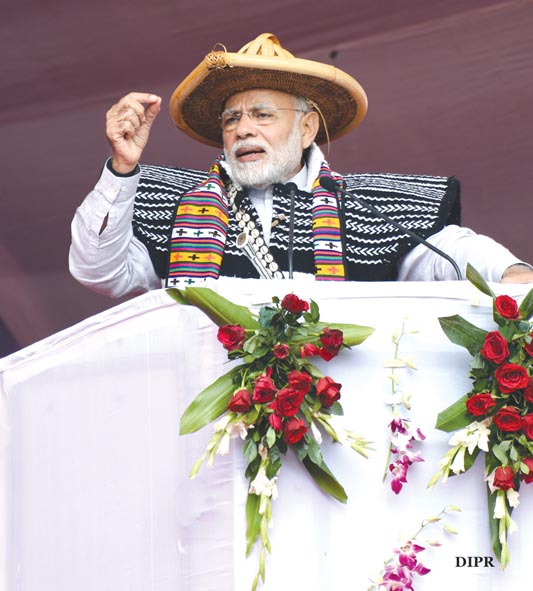 [Amar Sangno]
ITANAGAR, Feb 15: Prime Minister Narendra Modi broke thousands of Arunachalee hearts when he came and inaugurated UPA-funded infrastructure here but failed to announce any special package for Arunachal.
The prime minister on Thursday inaugurated the Dorjee Khandu State Convention Centre, dedicated the civil secretariat building to the people of the state, and laid the foundation stone for the academic block of the Tomo Riba Institute of Health and Medical Sciences.
Modi's rhetorical speech was a cliffhanger to the last line – making the frenzied crowd at IG Park here gasping rapturously – only to announce that the Naharlagun-Delhi train service would be "upgraded" to run twice a week instead of once a week.
An unprecedented crowd, thrice the size attending the Statehood Day celebration, turned up to listen to the prime minister's speech – just like a million listeners do for his Mann ki Baat – in his third visit to Arunachal Pradesh (and second as the prime minister).
As the prime minister concluded his speech, hundreds were left guessing what the motive of the charismatic prime minister air-dashing to Itanagar was when the election season has not even arrived. In his thirty-five minute long speech, Modi just sold patriotism and heaved the usual patronizing praises on the people of Arunachal for their cracking Hindi.
The then prime minister Manmohan Singh had come to Itanagar in the same month in 2008 and announced a Rs 10,000-crore package for Arunachal. Later the UPA government released Rs 8000 crore as part of the package which includes Rs 5,500 crore for the 1840 km Trans-Arunachal Highway.
Modi offered nothing but pandered to the patriotism of the people of this border state.
"Arunachalees greet people with 'Jai Hind', which no other Indian state does," said Modi.
Each time the PM uttered a sentence, the crowd erupted in chorus: "Bharat mata ki jai" and "Modi-Modi", electrifying the atmosphere at the venue.
Sadly, the prime minister did not even respond to Chief Minister Pema Kandu's submission seeking early execution of the greenfield airport project at Hollongi. The only change the people saw in Modi this time was his deviation from the usual election-mode oration.