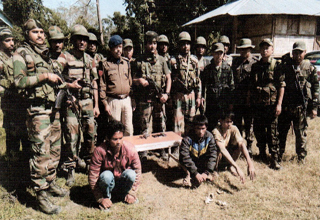 TEZU, Feb 16: Three alleged NSCN (K) operatives, who were reportedly carrying out extortion activities in Medo and Chongkham areas of Lohit and Namsai districts, were apprehended during a joint operation conducted by security forces and the state police of 15 February.
The operatives have been identified as Surjeev Chakma, Bishnu Chakma and Budh Ram Chakma.
While Captain Sandeep Kumar led the Army team, Inspector Thomas Pertin led the police team from Medo and Wakro.
One .22 mm pistol along with live rounds, three mobile phones, and one motorcycle used in extortion activities were seized from the trio.
A case has been registered at the Tezu police station against them.
The three revealed during interrogation that they were involved in the kidnapping of a tea garden official from Kharsang last year, and that they collected a ransom amount of Rs 12 lakh.