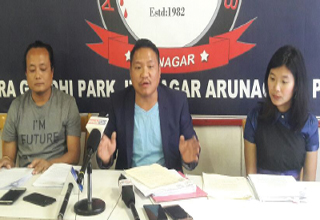 Staff Reporter
ITANAGAR, Feb 16: The Youth Mission for Clean River-AP (YMCR-AP) is going to clean the Senki river here on 17 February as part of its 'Mission clean river campaign'.
This is the group's first step in its endeavour to protect the rivers and streams in the state.
Addressing a press conference at the press club on Friday, YMCR-AP chairman SD Loda described river pollution as "a big threat to the sustainability of mankind," and urged the people to be concerned about it.
"If we do not act now, the legacy we hand over to the next generation will be one of conflict and deprivation. Our rivers have nurtured us and nourished us since time immemorial, and it is the time we nurtured and nourished them back to health," said Loda.
He said that, owing to negligence, many perennial rivers in the state are either becoming seasonal or vanishing altogether.
Emphasizing the need to formulate a state policy for protecting the rivers, Loda criticized the state government and the Arunachal Pradesh State Pollution Control Board (APSPCB) for not taking any progressive measures to address the issue.
Armed with documents collected through RTI application, Loda said the APSPCB "does not even have the data on the list of small streams which carry the highest sewage pollutants to the rivers here, while the state government does not provide any fund for protection and preservation of rivers and streams in the state capital."
The YMCR-AP had earlier written to the chief minister, urging him to constitute a 'Senki River Board Committee' to monitor and supervise the cleanliness of the Senki river, which is the intake point for potable water.
It had also made other pleas, such as declaration of 'state clean river day' and mandatory social service at various rivers by government employees; setting up of sewage treatment plants in various locations in the capital complex; and issuing strict prohibitory order against illegal earth cutting and disposing of waste in rivers.