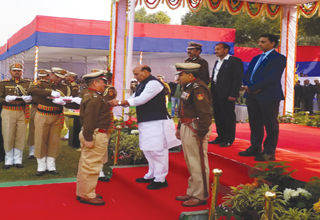 NEW DELHI, Feb 16: IPS Officer Robin Hibu has been awarded the President of India's Distinguished Service Medal for 2017-18.
Home Minister Rajnath Singh offered the medal to Hibu during a function on Friday.
This is the second time that Hibu has received such an award, the first time being the President of India's Medal for Meritorious Service in 2009-2010.
The dynamic IPS officer has several achievements under his belt. As the SP in Itanagar, he led the operation that busted, United Socialist Council of Arunachal, and recovered a huge cache of sophisticated arms and ammunition.
He won over some the members of the National Liberation Front of Arunachal, causing them to surrender with arms and ammunition, and nabbed the militants wanted in the Naharlagun bomb blast case. Hibu also led an operation to rescue a noted businessman from a hideout in the jungles of Assam and arrested three militants.
As the DCP of the communally sensitive and crime-prone West Delhi, he led a team in solving sensational cases like the Tihar Jail serial killer, the UTI bank robbery, the Hammer Man killer, the robbery at Reliance Industry, etc.
As DIG of Arunachal Pradesh, he led the team which recovered Rs 15 crore which had been stolen in a heist at the Anini treasury in Upper Dibang Valley district. As nodal officer for the people from the Northeast in Delhi, he got 1.21 acres of land allotted for construction of a new building for the SUPWAC and the SPUNER, and had Rs 24 crore sanctioned by the central government.
He was instrumental in getting 450 police persons recruited from the NE states during a special drive. Hibu also established a Facebook page for the people of the NE (which has since recorded over 1 crore visits), and got 61 new TISS counsellors for Delhi Police approved by the women & child development ministry.
Hibu took the initiative for getting concessions for medical treatment at 51 top hospitals in Delhi and NCR for people from the NE, and initiated a blood bank for the people of the NE at the AIIMS.
Hibu also took the initiative to impart self-defence training to more than 31,000 girl students in 121 schools in Delhi.
Hibu is also the recipient of several other awards, such as the UN Peace Medal, two gold medals from the Arunachal Pradesh government, the Best IPS Officer Award from the Newspapers Association of India, the Esprit De Corps Medal, and the NE Angel Award, among others.
He is currently attached to the Rashtrapati Bhavan.