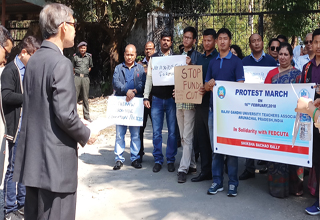 RONO HILLS, Feb 16: The Rajiv Gandhi University Teachers' Association (RGUTA) staged a protest march at the university's premises on Friday, in solidarity with the Federation of the Central Universities' Association (FEDCUTA) demanding time-bound promotion and 100 per cent central assistance to universities.
These demands are in lieu of Clause 18 of the memorandum from the ministry of human resource development (MHRD) issued on 13 January 2017, which suggests that the Centre provide only 70 per cent of fund assistance to universities, and that the remaining amount be managed by the universities themselves.
The RGUTA is demanding withdrawal of this clause, terming it an "unprecedented attack on the character of public-funded institutions."
It said reducing funds to institutes of higher learning would cause the RGU to suffer the most.
"Withdrawal of public funding will increase expenditure by parents and students towards education manifold, and the exponential fee hike will push a large section of the students out of higher education, especially students coming from economically weaker sections," the RGUTA stated in a release.
It also said that "glaring anomalies" in the last pay revision have not been addressed, resulting in downgrading of assistant professors at every level.
"The notification has also led to the withdrawal of the PhD/MPhil increments. There is a situation of compulsory stagnation for all senior teachers, including associate professors, professors and principals," it said. "There is no provision for promotion to professorship in colleges, no resolution of the anomalies of the last pay revision and parity of librarians with teachers both in promotion and the age of retirement."
It said while the allowances for teachers have been de-linked from the central government employees, the MHRD notification stipulates that till the finance ministry decides on the revised allowances of teachers, all allowances will be paid according to the pre-revised pay structure.
"The MHRD notification contains no reference to the revised pension benefits for teachers in accordance with the provisions of the 7th Pay Revision," the association said.
Citing the anomalies in the notification, the RGUTA submitted a memorandum to the university's vice chancellor for onward submission to the MHRD.