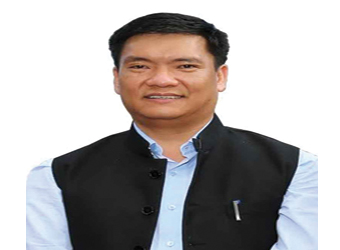 ITANAGAR, Feb 16: While Prime Minister Narendra Modi's failure to address the issues of the state became the highlight of his visit to Itanagar on Thursday, Chief Minister Pema Khandu, to his credit, did not fail to apprise the prime minister of the steps necessary to be taken for the development of Arunachal Pradesh.
In his speech at the function at IG Park, Pema informed the PM that, despite its abundant resources, Arunachal is still a resource-crunched state because the earlier state governments had not implemented proper and sound policies.
"Our youths have the potential to excel in all fields and take the state forward rapidly. We need to give them opportunities through programmes and policies and a corruption-free government," he said.
Khandu said that, during the erstwhile regime of the Congress, leaders of the NE states had to visit New Delhi at least twice a month with their issues and problems. "However, after the Modi government assumed office at the Centre, a hundred-plus visits have been made to the NE states by union ministers along with their officers to resolve issues pertaining to the states," he said.
Citing connectivity as the only means to ensure all-round development of the state, the chief minister emphasized the need to have an airport in the state capital. He requested the prime minister to consider sympathetically the proposal for the greenfield airport at Hollongi.
He also sought assistance for revamping and restoring old government infrastructure like offices, quarters and other assets that were built during the NEFA times and have long outgrown their shelf life.
Pema meanwhile reiterated his stance to have a separate cadre of civil service officers for Arunachal Pradesh.
"Ours is such a distinct state with so many tribes and history. Civil service officers come here to serve only for two years at a stretch.
They don't get enough time even to understand how many tribes are here, and their issues. How can they contribute to their capacity in resolving issues and support the government to take the state forward?" he questioned.
"Give me a dedicated cadre of civil servants specific to Arunachal Pradesh, and I promise to change the face of Arunachal Pradesh," Pema asserted.
He also assured the prime minister that his government would give account of every penny granted by the central government.
"It is the responsibility of 'Team Arunachal' to give account of every penny spent from the government exchequer – and we will do it," he said.