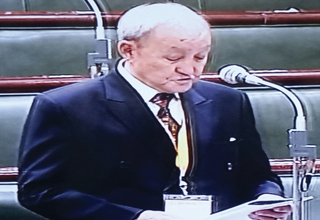 PATNA, Feb 18: Arunachal Pradesh Legislative Assembly Speaker TN Thongdok on Sunday said that the press and the civil society are invaluable for the survival and sustenance of democracy.
He said this in his speech on 'Legislature and judiciary – two important pillars of democracy' during the 6th India Region Commonwealth Parliamentarians' Association meet in the Bihar legislative assembly here.
"The invaluable position of these two pillars in our functional democracy cannot be underestimated," Thongdok said, describing the press and the civil society as "the fourth and fifth pillars of democracy."
The speaker called for checking failings in the political executive, saying "it often leads to the suffering of public interest."
Highlighting the controversy involving four senior Supreme Court judges alleging lack of transparency in the selection of judges to try cases, he said it should not be the job of the judges to cherry-pick lawyers for designating senior advocates.
"Only a judge with an appropriate length of service at the district level should be elevated to the high court, and only a judge with a suitable length of service in any high court should be appointed to the Supreme Court," Thongdok said.
He also suggested that the whole procedure of appointment of judges requires a thorough review, so that merit alone becomes the parameter for appointment.
"Judges have to be appointed on hierarchical basis and move upwards from subordinate judiciary to the Supreme Court. Matters concerning the judiciary, as regulated by Parliament, should be ousted from the examination of courts ostensibly in exercise of powers of judicial review, since judges cannot be judges in their own case," he said, adding that the colonial and archaic procedures of courts have to be discarded.
The speaker also demanded that the constitutional provisions concerning removal of judges be revisited.
"Complaint against judges must not only emanate from MPs of either house of the parliament, but should also be allowed to come from the MLAs of the state legislatures and from the general public," he said.
Food & Civil Supplies Parliamentary Secretary Tage Taki, who also attended the CPA meet, delivered a speech on the Parliament's role in the development of agenda.