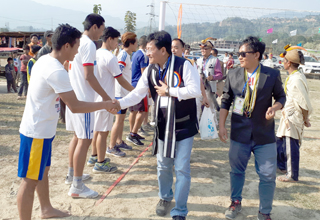 JULLANG, Feb 21: The sporting events of the Jullang Nyokum Yullo festival was kicked off here at the general ground on Tuesday by PWD Western Zone Chief Engineer Katung Wahge.
The volleyball tournament was the first on the list, which was followed by other traditional games competition.
Addressing the function, Wahge said that the present generation should thank their predecessors for carrying the rich tribal culture and tradition since ages. He appealed to the younger generation to follow the footprints of their forefathers.
Jullang Nyokum festival celebration committee-2018 chairman Tarh Tarak informed that 15 teams are participating in the volleyball competition.
For the first time, all the rural villages of the capital region are jointly celebrating this year's Nyokum at Jullang.
Among others, Don Bosco College principal Father Jose George and social worker Taro Tagia were also present on the occasion.