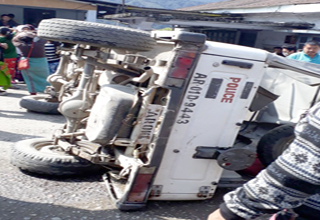 Alleged accused paraded naked in Daporijo; police vehicle torched in Yingkiong
Staff Reporter
DAPORIJO/ YINGKIONG, Feb 21: Two more rape cases of minors have surfaced merely days after a five-year-old girl was found raped and murdered in Namgo village.
An eight-year-old school girl was allegedly raped at Lidu colony on February 14 last at Daporijo town.
Our correspondent reports that the incident came to light when the victim complained about body pain to parents and later confided about the incident.
Angry relatives of the victim assaulted the alleged accused identified as Tama Gapak, an employee of the horticulture department, and paraded him naked through the market.
Officer-in-Charge T Rebi informed that after interrogation it was revealed that the alleged rape took place on the 14th of this month.
The alleged rapist is currently in police custody.
He added that investigation is going on and sought cooperation from the public in this regard.
Another alleged rape of a five-year-old surfaced in Yingkoing town.
The alleged accused, identified as Holivi Sema of Nagaland, was arrested after he had allegedly sexually assaulted the minor on 17 February.
The rape of the minor by her school teacher came to light when the young child complained of a stomach ache and vomiting. When she was brought home, her mother found out that her daughter had injuries and was bleeding from her private parts.
Yingkiong Deputy Commissioner Duly Kamduk informed that the alleged rapist had been shifted to Aalo on 19 February by the police after sensing a hostile atmosphere.
The accused has been booked under the POCSO Act.
Angered by the alleged perpetrator's shift to Aalo police station, the relatives of the victim family vandalised the police station and torched a police vehicle (Gypsy) on Tuesday.
The fire was doused immediately by fire fighters and any major damage was averted.
Locals of Yingkiong are protesting before the DC bungalow demanding that the man alleged of the crime be brought back from Aalo. They also demanded suspension of the SP and IO of the case.
Meanwhile, the Arunachal Pradesh Women's Welfare Society (APWWS) has condemned the two rape cases at Yingkiong and Daporijo in the strongest terms and called on the government to take strong measures to protect children from such heinous crimes.
The APWWS also sought that the government take strong action to expedite all the cases so that justice is delivered at the earliest to the families of the young girls.