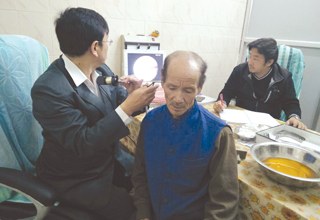 NAHARLAGUN, Mar 3: World Hearing Day with the theme 'Hear the future' was observed by the NPPCD (National Program for Prevention and Control of Deafness) cell of the Directorate of Health Services (DHS) here on Saturday.
On the occasion, a radio programme on the topic 'Hearing impairment and deafness: Prevention, diagnosis, treatment and rehabilitation' by Dr Pekba Ringu, SNO, NPPCD and Dr Jego Ori, ENT Specialist, TRIHMS was aired by AIR, Itanagar.
Moreover, a free endoscopic ear screening camp was organized at the ENT department of TRIHMS to mark the occasion.
A total of 72 ear patients were benefitted from the camp which was conducted by the ENT specialist trio Dr Tajing Taki, Dr Komri Riba, Dr Jego Ori with the cooperation of MO, Dr Hage Niku and para medical staff of the department.
The 3rd of March is observed as World Hearing Day every year to educate and sensitize the people on ear care.
Hearing loss is the most common (sensory) disability. According to the WHO, a staggering 63 million Indians and a total of 360 million world population suffer from significant hearing loss and the number is increasing every year.